Top 5 Golf Training Aids to Improve Putting
The finest putting training aids are those that provide particular feedback on the area you're working on. Every year, hundreds of new training aids are launched. It would be hard, if not impossible, to separate the ones that assist you to drain putts from the ones that are merely excellent for emptying your wallet on an annual basis.
Unlike golf clubs, though, the best golf training tools are everlasting. Established winners are seldom replaced by a newer and better model, and they are never entirely obsoleted. So you get a good return for your investment.
It's easy for a casual golf watcher to watch the pros on the green and conclude that it is the easiest part of the game. After all, rather than the forceful swings used for a drive, you're hitting the ball with small, short strokes on even ground near the hole.
The short game is where so many players – even some of the finest of all time – either choke or act so overconfident and don't take enough time to make sure that the ball gets into the hole.
A putting training aid is one of the finest ways of enhancing your short game. These come in many various sizes and shapes — some of them are lightweight enough to fit them in your golf bag with you on the course.
Some of them are intended to use at home or wherever you practice golf each week. These putting training aids allow you to practice your putts in private, so you'll play much better while you're on the course.
We've compiled a list of the top putting trainers available right now to help you improve your short game. So feel free to skip to the one that most interests you. These are the putting training aids you should buy.
Top 5 Golf Putting Training Aids
#1: SKLZ Golf Putting Cup Accuracy Trainer
The SKLZ Golf Putting Aid shrinks practice cups to improve putting abilities on the course. It will also assist you in fast-improving your reads, putt velocity, and accuracy. This device will teach you to hit the top side of the hole, and make more putts.
It's all about picturing the appropriate line when it comes to sinking breaking putts. Players are forced to hit the high side of the hole by the Putt Pockets' unusual horseshoe design, which may also be used as an extra practice cup.
This product assists golfers in improving line accuracy and speed of putts of all lengths. It fits into a regular golf hole and features a 2.75-inch aperture that challenges the golfer to putt accurately.
It will also fit nicely into your bag for practice on the course or at home on golf putting mats. When a golfer is out on the course, a little hole opening makes real holes look larger.
On a packed practice green, it can be used as a practice hole on the ground. Simply aim for the opening rather than the hole when lining up a putt. The ball will migrate to the high side and right into the cup if you see the line correctly.
After a few hours of practice, not only will this enhance your accuracy and speed of putts, but it will also make genuine holes look much larger.
The Putt Pocket is excellent for golfers of all skill levels.
For more information, click here to learn more about this training aid on Amazon.
#2: PuttOut Pressure Putt Trainer
The PuttOut Pressure Trainer takes twice as much patience as golf. A tiny hole for "the ideal putt" gives little room for error. If you hit it correctly, the ball will balance on top of the hole of this device.
The PuttOut Pressure Putt is without a doubt the most addicting and challenging golf training aid for putting practice that you will experience. Although it frustrates you, it is one of the greatest putting aids you can get right now.
Good putts will roll up the ramp and back to you, whereas incorrect putts will roll-off. The curved shape is intended to assist you to evaluate the strength of your swings by returning the ball at the same speed at which it was sent.
At the bottom of the PuttOut's ramp is a white disc. The disc resembles a normal golf hole, but it's the ramp that makes this training device unique.
This training aid is made of high-quality materials and folds flat for convenient storage in your golf bag or on a shelf. So you may have it close at hand for when you have a few minutes here and there to practice your putting.
For more information, click here to learn more about this training aid on Amazon.
#3: Best Putting Mirror & Gate Training Aid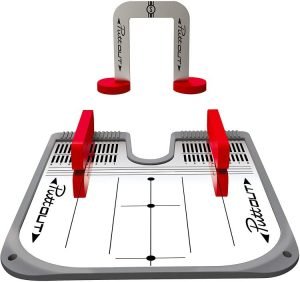 If you can consistently start your putt on line, then you'll have a better chance of making those important putts.
The Putting Mirror has a scratch-resistant finish, a solid steel inner plate to prevent warping and breaking, and a spiked-base rubber surround.
The two vibrant alignment guides are adjusted for your putting stroke and may be used as a fence, a gate, a backstop, or anything you see fit.
The guides are 3-inches long, ensuring that your stroke follows a square path throughout the target area.
Place the putting gates a few feet in front of the mirror, using the instructions to ensure the path is square. This will guarantee the ball starts on the line every time.
On straight or breaking putts, if you want to putt to a midpoint, aim to get the ball past the gate on its route to the ultimate goal.
This training aid is of high quality material, and I would suggest this aid to anyone looking to become a better putter.
For more information, click here to learn more about this training aid on Amazon.
#4: PuttOut Putting Practice Mat Training Aid
A home putting set-up is an important training tool for every golfer, and the PuttOut Putting Mat makes practice fun, effective, and easy to include into your day, no matter where you are.
A top-quality putting practice mat is worth investing in to help you practice your putting indoors. And the PuttOut Practice Mat is one of the best.
The PuttOut Mat is a little over 6 feet long and has markings down its length, giving it a score of 10 on the Stimp meter. The mat always rolls flat and delivers a smooth and consistent roll no matter what surface you lay it on thanks to its thick rubber backing.
The mat may be folded up and stored in a low-profile drawstring carry bag when not being used. It's a fantastic product for putting practice that I highly suggest.
For more information, click here to learn more about this training aid on Amazon.
#5: IXIA SPORTS True Pendulum Motion
If you're serious about improving your stroke and lowering your scores, the Ixia Sports True Pendulum Motion putting training device is a must-have.
Golf Channel's School of Golf called it a top putting training device for all ability levels. It focuses on improving the 'big muscle' activity that is required for a proper putting stroke.
It may be attached to the shaft of any putter and used with any gripping style.
This putting tool will aid in the development of optimal eye position, stance about the ball, and most importantly, the appropriate posture of the forearms and hands.
When these conditions are in place, the Ixia True Pendulum Motion will only enable the 'large muscles' of your chest, shoulders, and core to participate in the putting stroke.
It achieves this by extending the two rods linked to the shaft across the forearm and into the inside of your bicep, resulting in the proper setup.
One of the benefits is the option to separate the rods from the connection point and utilize them as alignment sticks for a variety of alignment exercises, including putting and whole swing alignment.
Any golfer, from novice to experienced, should have this item.
For more information, click here to learn more about this training aid on Amazon.
Golf Practice Plans to Follow