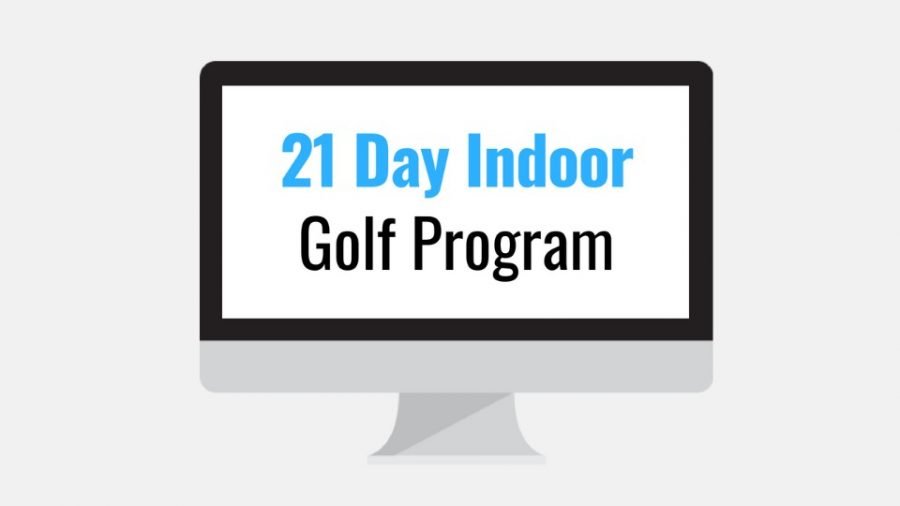 21 Day Indoor Golf Program
Grab your practice system + bonuses today and discover how you can:
Instantly lower 5 to 10 strokes from your golf score
Sink more putts inside 6 feet to save par
Stop 3 putting (and hating yourself for the rest of the round)
Get up and down from anywhere around the green
Dial in your club distances to make better club selection choices
Track your stats to see your improvement
Increase mental toughness to begin and close out a golf round
And much much more!
How to Improve at Golf from Indoors
Looking for a way to improve your golf game while at home? Or perhaps winter is arriving and you aren't able to practice golf outdoors.
No worries, we've created an easy-to-follow golf improvement plan for indoors. It's comprised of putting, chipping, and swing drills to help you stay sharp and see improvement in the basic fundamentals.
Building a strong base of fundamental skills while indoors will translate into lower golf scores when you head back out to the course. You'll find your golf game holds up much better under pressure and late in the round as fatigue sets in.
What Will I Be Getting Inside This Course?
21 Day Practice Plan
Download the 21 Day Practice Plan PDF which lays out drills to complete each day for the next 3 weeks. Track your stats and once you complete the 21 day plan, go back through it again trying to increase your scores and see improvement.
8 Week Fitness Workout Plan
Hit the gym and perform these golf specific exercises to build stability and power in your golf swing. Improving your physical fitness will also help in preventing injury and can add muscle definition to your physique, making you look good in your golf attire.
Nutrition Guides to Build Muscle & Lose Weight
Forget walking the treadmill to lose weight. Why not shape up your body by playing golf, a much more fun alternative for getting exercise and being active. Learn the nutrition you should be fueling your body to help you perform on the course, add muscle to your frame, and shred fat off your core.
Golf Stretching Workbook
An easy to follow eBook full of golf specific stretches to improve your flexibility and help you prevent injury. Each stretching exercise has step by step instructions plus a photo example. Use these stretches to add distance to your golf swing.
Private Golf Facebook Group
Join our golf Facebook group and get ready to hangout online with other like minded players who have tips, questions, and answers to share with everyone. Feel free to share any knowledge with the group or fun golf videos, quotes, articles that you find online.
Is this Program Right for Me?
Does any of the follow sound familiar to you?
Practicing like crazy with little result. You're throwing a lot of time and money into your golf swing, equipment, balls, and training aids but seeing little to no improvement in your scores.
Unsure how to spend your practice time. You've got limited practice time each week and every time you go to the course you've got good intentions of working hard but end up leaving feeling unaccomplished.
Losing your motivation. You feel like you've tried every golf drill on Google, but haven't seen the results you were expecting or the improvement that allows you to break that next scoring barrier.
Frustrated by all the conflicting information. You're sick of wasting time trying to research how to fix your golf swing, improve your ball striking, and sink more putts. You keep hearing the same outdated, lame-sauce advice. You want something that will work NOW!
Did you raise your hand to any (or all) of the above? Good. You are SO in the right spot.
What Kind of Results Can I Expect?
I want you to take a moment and imagine a world where you could…
Dramatically improve your chipping skills in less than ONE week. Consistently strike quality chip shots that land on the green and roll close to the hole. No more missed opportunities to get up and down for par.
Sink more putts within 10 feet. Stop sweating those par saving putts from a few feet away from the hole. You've built a putting stroke that is your strongest weapon, helping you make more birdies, pars, and shoot lower scores.
Feel confident in your golf game. No more second guessing or feeling pressure standing over your golf shots. You know you have the skills to play well and the mental confidence to back it up.
Stand out above the competition. Your golf game becomes noticeable when playing with friends, getting you lots of new compliments and putting fear in your competitors.
Continually improve your golf skills without spending tons of money. You are actually able to see improvement on a weekly basis without spending loads of money on your game.
Feel excited to practice your golf game. When was the last time practicing golf was actually fun and didn't feel like a chore? Now you have exciting drills and games to look forward to completing, making you want to head to the course for practice!
Yep. Fo-Real.
Get this, bud — you can achieve ALL of this success by simply practicing more strategically.
50% OFF SALE! Only $29 Today!
Final Words
Overall, this Indoor Golf Plan and all the accompanying bonuses will be like no other program out there. If you stick to the plan, read all the material, and apply everything you're learning to your practices, then I have no doubt you will be an improved golfer and shoot lower scores.
In addition, we also have full outdoor programs that last 12 weeks covering all areas of your game including the golf swing (driver and irons) if you want to check them out. I recommend doing the indoor plan in addition to doing the outdoor plans to benefit all around in your golf game.
Pick the one closest to your handicap or get access to all 3 with our bundle option: